Another e-book, this was the book where my library didn't have the first book in the series (Vixen), only had the second book as an e-copy, and I won the third book (Diva) so I finally had some motivation to track down the first book. I should note one thing though, apparently I misremembered the end of Vixen and Gloria does in fact follow Jerome to NYC, not sure how I didn't remember that but they're together at the start here so clearly that's what happened.
Ingenue by Jillian Larkin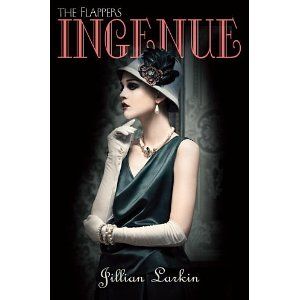 Summary: A lot has happened since Gloria's party, she's now slumming it in New York City with Jerome and trying to find work, Lorraine has ended up working for a club in NYC run by mobsters, and Clara is now writing about the clubs and flapper lifestyle in NYC. In a city of millions you would think their lives wouldn't cross but Jerome's sister Vera is banking on it, someone has ordered a hit on Gloria and Jerome and it's a race against time to find them first before they find themselves dead.
The Good: Vera was a new addition to the cast and I liked her a lot. When I think about it she's actually a little more fleshed out than she first appears (ie, someone whose only goal is to find someone else, in general I find people's whose goals center around someone else to be a bit flat) and she was certainly the most sensible of the viewpoint characters this time around. Even though I'm still not a bit fan of Lorraine she did have some good development and I'm sure many people would find her to be the most interesting character.
The Bad: What do you mean that the subplot about the assassin barely had any impact on the rest of the story? It's not like that wasn't the entire point of involving Vera in the story (who, spoilers, is not in Diva), or like the story could have worked without that convenient way to kill off a few undesirable characters. This book could be summed up as tension for the sake of tension both concerning the plot and for half of the relationships as well. In retrospect, having read Diva as well, I wonder if this series might have worked better as either a duo book set rather than a trilogy because honestly there just wasn't much here when everything is said and done.
As said, I've already read Diva as well, should get to that one next week, but as the series goes on I'm becoming less and less interested in it which is sad given how few books are even set in the 1920s. I give this book 2.5 stars out of three, let's see if Diva can do any better!