Getting close to the end of the year here! For the record, I'm going to take the first through the fifth off, partially so I can sew for an upcoming con and also because I've done such a great job getting everything reviewed I'll be basically out of stuff to talk about by then! Besides, just about everyone who took a break took one this week so it's not like there will be a dearth of content elsewhere.
In any case, I attempted to get this book through an interlibrary loan, failed, discovered it was at my local library back home, got it from there once I got home for the holidays and then got a response from my college library saying they had it. I have absolutely no idea what they're doing now, especially since I was well into the book and knew I was going to finish it long before I got back to school and there doesn't seem to be a way to cancel the request. Oh well, what matters now is that I have read it and through entirely legal means to boot!
Glamour in Glass by Mary Robinette Kowal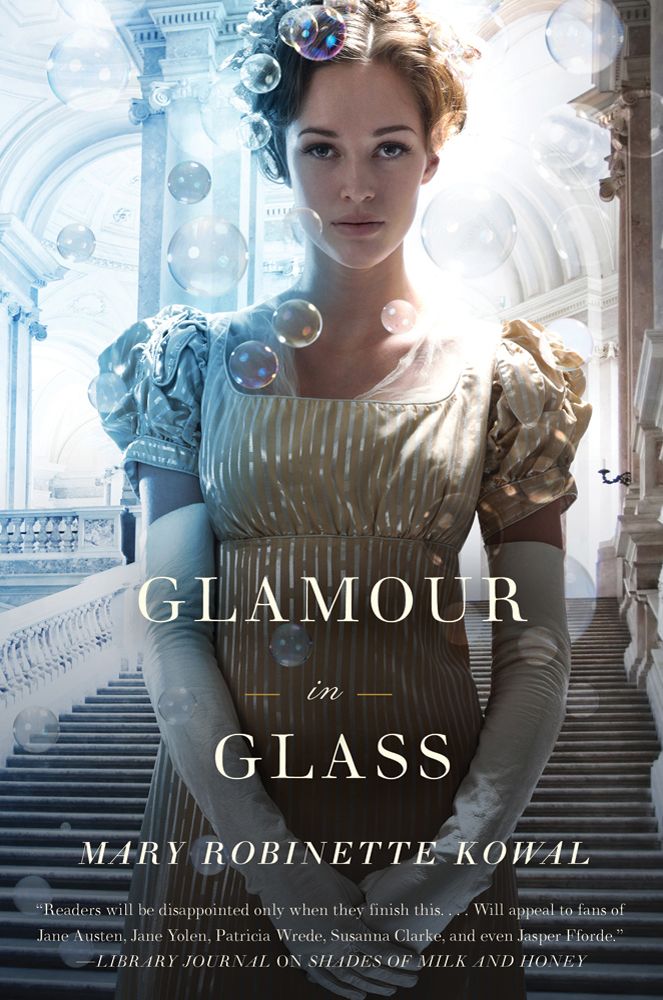 Summary: Jane and Vincent are now happily married and working together producing glamurals, even though Jane worries that she's not helping enough or that her contributions to the work are overlooked by everyone except her husband. However they decide to take a brief break and go on a honeymoon on the continent now that Napoleon has been disposed of and visit an old friend of Vincent's where Jane has a rather clever idea.
The Good: As odd as it sounds this book made me a bit interested in the history of the time and not the history of Napoleon and his wars but of society and the differences between countries in Europe. Possibly not what Kowal expected people to take away from it but I want to go off and read more about the time period now which I think means the book did at least a few things right. As for the story itself, it was cool to see how the magic changed and grew, although the story didn't focus as much on the magic so I almost want another book which focuses on it more.
The Bad: I'm venturing dangerously close to spoilers here but the heck with it, despite the fact that it gives the book it's title the glassmaking ultimately didn't play a very large role in the book and I felt like it was almost disposed of by the end. Sure you could say it was only a plot device but I think it was a badly used one. And the book overall was, well, boring and I never found Shades of Milk and Honey boring. I've seen people that it is much harder to write a story about people staying in love than one about them falling in love and that certainly seemed to be the case here, even if it was nice to see Vincent be more open it was just more boring overall.
In the end I give this three stars out of five and found it much less interesting than it'd predecessor It's not a full "you have to read this to know the entire story " sequel so read it if you want, if you don't then don't. I'm probably being a bit hard on it but, erm, oh well, I'm sure it's just to balance out how lenient I was on Kyousogiga yesterday.