I'd seen this book around for a while before I read it, the bookstore at my college had it proudly displayed with a lot of other books which I walked past frequently, and I had heard a lot of good things about the book online but what drove me to try it out was a combination of seeing some cosplayers say they were going to try and make cosplays from it (and they planned on outfits from other books I liked so I knew we had similar tastes). I think I saw someone say that it read a lot like a YA book despite the fact that it's adult fiction which also made me curious. I was sad about one thing however, the copy I got at the library was a large print edition and yet the print was still much too small for me to read without glasses, I remember when I could read those books without my glasses back in high school.....
The Night Circus by Erin Morgenstern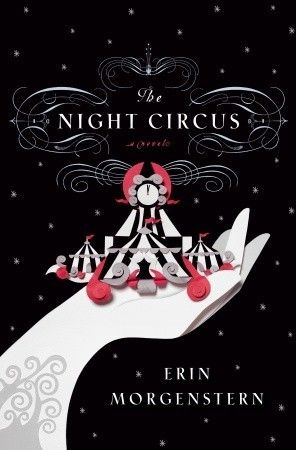 I love the papercut look of the cover and I love how the image is a reference to a clock mentioned in the book, I just like when covers go the extra step to reference a detail from a book instead of having a generic cover. That image is the one for the hardback and the paper back one is also interesting, it still has the clock in the middle but also has silhouettes of Celia and Marco on either side, it works equally well and I think it's a rather clever way to change the cover but still make it obvious that it's the same book.
Summary: A magicians duel can take many shapes and can take years to finish so the onlooker might find it rather boring at first. But not in this case where the Cirque de Reves is the stage for Celia and Marco, two young magicians bound at a young age by their parent/mentor in a fight to the death simply to see whose student is better. Both of them grow up knowing about the duel but knowing nothing about it and have no choice but to go along as fate slowly draws them together collaborating more often than fighting, a choice that could bring disaster to both of them.
The Good: I don't often come across stories that follow characters for years as they grow but I like the concept since so many times I'll come across stories where all kinds of big, world-changing events occur from start to finish in the space of a week. The Night Circus neatly averts that as it takes years to set up the titular circus for the duel and then the duel itself lasts years, that extended period of time makes the plot feel more "real" and it was easier to become attached to characters after seeing the grow up. The characters were interesting and sympathetic, the descriptions were amazing (I can only wonder what a movie version would look like if it had the budget and a screenwriter clever enough to make the story fit two and a half hours, it simply wouldn't work as multiple films or a serialized story in my opinion) and this is all made even more impressive when you realize that this was Morgenstern's debut novel. I enjoyed it quite a bit and highly recommend it to anyone who has ever enjoyed a fantasy story, be it high fantasy or urban fantasy, before.
The Bad: This book contains both timeskips and some out of order sequences so if you don't pay attention to the dates at the beginning of the chapters it's easy to get confused, I got particularly annoyed at one subplot which was introduced rather early on and I completely missed the fact that it was set 20 years later on. On a related note, the story starts when the two leads are quite young and doesn't finish until they're in they're in their late 20s at least so there is a lot of time when not much happens in the story. There is character development and there are some subplots which move along for sure but I wonder if the pace might be too slow for some people.
Another really strong book, something I won't be able to say next week (in case anyone was getting bored by all of my praise of late) and one I could easily recommend to half a dozen people I know. I'll have to keep an eye out for Morgenstern's next book whenever that will be since I liked how she did practically everything here and would like to see more of that.