I've seen both seasons of this show before when I was still new-ish to anime and decided to finally get around to re-watching them with the third season coming out this summer. I didn't need to do this, the show is slice of life so the order of the episodes almost doesn't matter and there's no myth arc in the first two seasons but I really do love this show and just wanted to see it again. I think this was the first slice of life show I really enjoyed and now I really like slice of life shows so I suppose I have this one to thank for that.
Natsume Yuujinchou (Natsume and the Book of Friends)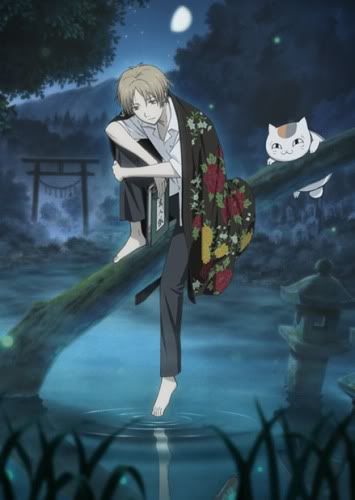 Summary: Takeshi Natsume is a high school boy who can see spirits and has always resented this ability because of how it always distanced him from other people. But, after he's been passed to yet another distant relative to live with, he discovers that his grandmother Reiko could see spirits as well and collected the names of those she defeated in fights in her Book of Friends. This book is now in Natsume's possession and he's about to find himself interacting with even more spirits than usual, both those who just want their names back and those who want to kill him for the book's power.
The Good: One thing the anime does better than the manga is that it takes a number of background characters (like Natsume's classmates) and makes them reoccurring characters which helps link the episodes together a bit more and really gives Natsume a chance to connect with other people. The whole point to the story is Natsume beginning to understand people better, both humans and spirits, so having characters that he can build a relationship with over a series of episodes is a really good thing.
The Bad: The only episode that feels a bit weak is the one with the train ticket (about halfway through the season) and not surprisingly that's the only non-manga story in the anime. There's simply something that's a little bit off and the information about Reiko in the end feels a bit odd as well. Also odd is just how quickly Natsume begins to open up to others again, especially spirits since he's always blamed them for how they separated him from other people (poor Natsume's gift is so strong that he's not always sure what's real and what isn't). The whole story is about him connecting with others again but it seems strange that he still is willing to connect in the beginning, he was less open in the manga as I recall.
The Audio:

Neither the opening or ending songs are translated on crunchyroll but the ending sounds a little bit like a sad ballad and the opening has one or two parts that sound sad as well. The rest of the show has a number of good and distinctive themes and all the voice acting is solid as well (special props to Nyanko-sensei's voice actor who I believe does both of his forms, that's an incredible range).
The Visuals: The original manga artwork has a sketchy style to it the art in the anime looks much cleaner and smoother. The palette of colors is a bit muted, not even the spirits are done in excessively bright colors, but the colors really fit the calm and more introspective feeling of the series. There is a bit of stock footage used for when Natsume returns a name but it's very pretty footage, can't be more than 15 seconds long and isn't used in every episode so most people shouldn't mind it at all.
Heh, I wrote this yesterday and just forgot to post it until now, so much for my planning skills. And yes, there will be a review of the second season up soon as well, I could have put both seasons in one review but decided that, since I've reviewed seasons of the same show separately before, to continue with this approach instead.